Affordable Health Care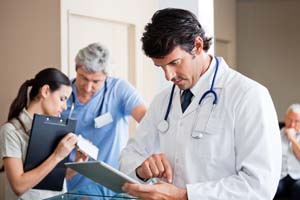 Mr. J
Mr. J., an elder Vietnam Veteran, qualified for a Medicaid "home and community based" waiver due to the severity of his numerous physical and mental conditions. This benefit provides recipients who would otherwise need nursing-home level care with in-home services they need to stay in their own homes.
After several years receiving roughly the same monthly budget (based on annual social worker assessments rating his need for assistance as "extensive" or "total" in many daily living activities), he received a notice reducing his budget by more than 30%. The reduction was based on a recent assessment in which (unlike all the earlier social workers), the new social worker assessed his need for assistance as only "minimal" or "moderate", no longer extensive or total.
His family thought the drastic reduction put him at risk of re-institutionalization; they appealed and contacted RILS. The Public Benefits Group represented him at an agency hearing. Because his medical conditions are, by their nature, permanent and highly unlikely to improve, we disputed the contention that his needs had decreased, and argued that the burden was on the agency to produce evidence of medical improvement. We contended that the notice lacked all the elements required by Federal Medicaid regulations, and was thus inadequate. The hearing officer agreed, and issued a decision ordering that his full budget be restored until a new full team assessment is done, including evidence of medical improvement, and the agency issues a new, adequate notice.
---